Lending market in numbers – BIK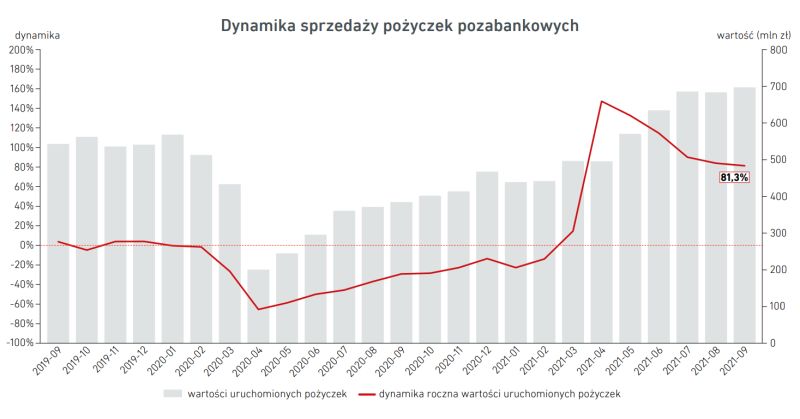 As a result of the monthly analysis of data, it is easy to conclude that once again an upward trend on the loan market is clearly marked. In September 2021, compared to September 2020, in terms of value, loan companies granted loans for an amount higher by 81.3%, and in numerical terms they were granted by 70.7% more. The explanation should be seen in the relatively good economic situation of our country, and thus positive consumer sentiment, leading to an increase in private consumption and growing demand for its financing. After a huge collapse in the first months of the pandemic, in the summer of 2020, the loan market began to systematically rebuild.
The dynamics of the increase in the number of loan applications in the period January – September 2021 compared to the same period last year amounted to as much as 72.3%. The total sales of loan companies in September 2021 amounted to PLN 697 million, which translated into 276.5 thousand loans granted. It can be assumed that the trend will continue in the coming months. As a result, 
Ninja Lender
 also expects an increase in the number of applications submitted. However, it should be remembered that the loan market remains sensitive to any changes in the economic situation, which in turn are closely related to the possibility of further negative pandemic events. Unfortunately, the fourth wave is already a fact, but let's hope that it will have a mild course and have less impact on the restoration of sentiment towards the loan sector.
source of information, chart: BIK.pl