Ninja Lender runs for charity with ZPF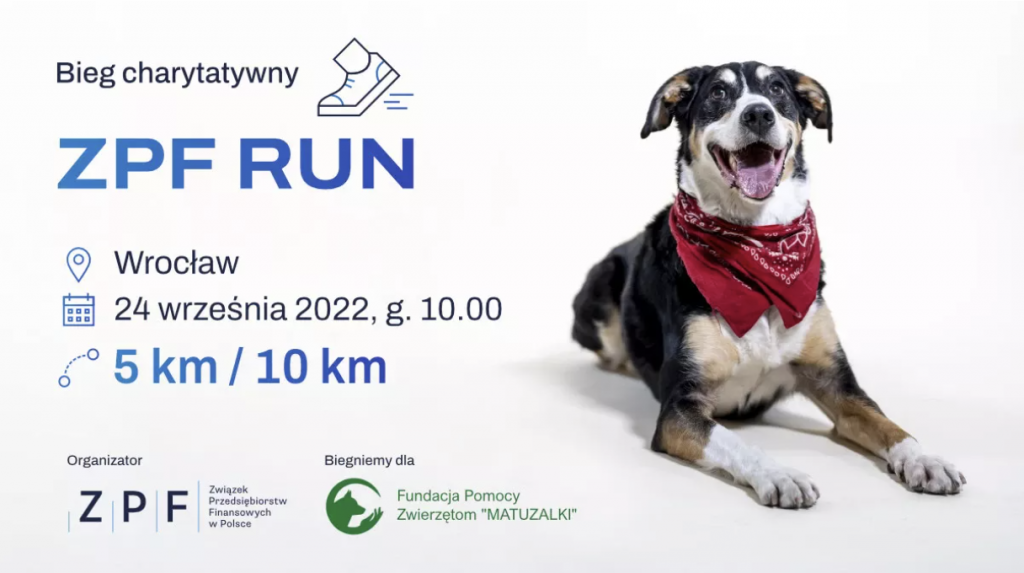 Did you know that our founder 
Yaroslav
 is a passionate runner? Almost every morning, no matter the weather – talking about commitment to your health. 💪🏻 And when it comes to charity, and especially helping animals – we are all in! 🐶🐱 Will you run with us? 🤗
_____
Good morning!
🏃 ♀️🏃 ♂️🏃 ♀️ Are there any runners here? Or maybe eager to start a running sneak peek in a big way?
Do you want to get involved in a charity event and spend time outdoors?
Run and help your pets 🐶😺🐶😺 with #ZPF and the Methuselah Foundation
👟 Registration for the charity run ZPF RUN, which we organize as part of the Debt Management Days in Wrocław, has started.
We invite you to 2 distances of 5 km and 10 km and a children's Dwarf Run.
All costs of the charity run are covered by donors (Partners of the run). Thanks to this, all funds collected as part of the starter packages will be credited to the account of the Animal Aid Foundation "Matuzalki" and will support stray dogs.
We invite Participants and Partners!
About the run: https://lnkd.in/dm4hWfSM
About the Methuselah Foundation: www.matuzalki.pl
Debt Management Days: www.dzw.zpf.pl
🏃‍♂️🏃‍♀️🏃‍♂️🏃‍♀️🏃‍♀️🏃🏽🏃‍♂️🏃‍♀️🏃‍♀️🏃🏽🏃🏽🏃‍♂️🏃🏽🏃‍♂️🏃‍♀️🏃🏽🏃🏽🏃‍♂️🏃‍♂️🏃‍♀️🏃‍♂️🏃‍♀️🏃‍♀️🏃🏽🏃‍♂️🏃‍♀️🏃‍♀️🏃🏽🏃🏽🏃‍♂️🏃🏽🏃‍♂️🏃‍♀️🏃🏽🏃🏽🏃‍♂️🏃‍♂️🏃‍♀️🏃‍♂️🏃‍♀️🏃‍♀️🏃🏽🏃‍♂️🏃‍♀️🏃‍♀️🏃🏽🏃🏽🏃‍♂️🏃🏽🏃‍♂️🏃‍♀️🏃🏽🏃🏽🏃‍♂️🏃‍♂️🏃‍♀️🏃‍♂️🏃‍♀️🏃‍♀️🏃🏽🏃‍♂️🏃‍♀️🏃🏽🏃🏽🏃‍♂️🏃🏽🏃‍♂️🏃‍♀️🏃🏽🏃🏽🏃‍♂️🏃‍♂️🏃‍♀️🏃‍♂️🏃‍♀️🏃‍♀️🏃🏽🏃‍♂️🏃‍♀️🏃‍♀️🏃🏽🏃🏽🏃‍♂️🏃🏽🏃‍♂️🏃‍♀️🏃🏽🏃🏽🏃‍♂️🏃‍♀️🏃🏽🏃‍♂️🏃‍♀️